Sermoncitos, a family tradition
My Father, E.L. Howard
21 July 2004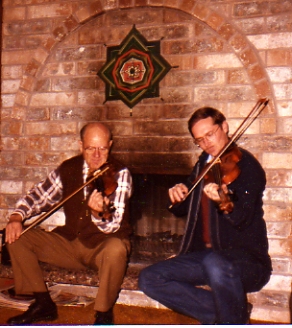 I have known many men who have learned all they want to know by age 16. Then, with a beer in one hand and a TV remote in the other, live the same life, year after year. My father is just the opposite.
At age 16, Edward Lorenzo Howard Jr. was a high school graduate teaching the printing trade to other young men. When I was a young teen, he bought a printing press and taught the trade to me and my brother. When I was 16, I printed a business card for a Ph.D. college professor, then took out his name and put in mine, Roy Edward Howard Ph.D., a type of things to come. That shows the pattern of his life, always seeking new knowledge, and using it to ignite and nurture a spirit of learning in others.
That zeal for learning and ability to inspire others was noticed and appreciated all throughout his life. When he arrived in Salt Lake City to begin his mission, he was called apart and ordained a Seventy, a distinction reserved for those destined for leadership. The young Seventy was given large responsibilities over other missionaries as well as over branches and districts. His willingness to serve and skill in leadership led to many opportunities throughout his life. For many years he was known in San Mateo Stake as "President Peanuts". He had a very visible role in the stake presidency, and to make the scriptures accessible to the people, quoted Charlie Brown in most of his many sermons and church publications. I remember how my heart burned within me as he bore witness at the pulpit of his testimony of Jesus Christ.
As a child, he lived with his parents in rough railroad towns, where his love for books and nature was nurtured by the great expanses of land and sky, few friends beyond his dog and burro, and time to explore, He gained the work ethic the hard way, at one end of a cross cut saw pulled by his grandfather. He learned to listen and to talk and benefit from the experiences of others. I spent many similar hours with him, playing catch with a softball in the backyard, working on the church welfare farm, camping and working in the church's mountain recreation area, and learning at home. He listened, and he taught by precept and example. Dinner time was instruction time - we laughed, we talked, we listened to the master teacher of religion and life.
He never attended college, but he taught college for over 20 years. He published dozens of research articles in technical journals. His lectures and writings became the body of knowledge that founded the new science of concrete quality control. When at home, he was constantly studying - reading books (while soaking in the bathtub), reading scriptures (and marking and cutting and pasting his sermons) at the table, lying on the floor in the living room with a scientific journal (the tv on a sports channel, sound off), or drafting and calculating at his desk (slide rule and protractor in hand). His children and grandchildren caught this spirit of learning, as did the engineers and technicians he mentored throughout the nation, and the missionaries and bishops and stake presidents he led throughout the hemisphere.
I wanted my children to know him and have the opportunities to hear and be heard that I had; so I quit the Air Force, and moved from Maine to Washington. As soon as we got there, he was sent to Chile to organize welfare services, employment agencies and training schools. He was so effective that they expanded his role and kept him there for nearly four years. When he returned to Washington, I moved to New Mexico. Since then, my children have scattered all over the world, following the tradition of their grandfather; always going out in service to others. We have depended upon the Sermoncitos that have come every week since 1967.
I always wanted my children to have a base, a place to call home. I have since learned that Howards don't stay put. The Howards abandoned England to start their American identity in Virginia in 1625. In 1776 they left the plantation and have kept moving ever since. My father's grandfather was raised by his grandparents in Kentucky. At age 13 he headed west, clear to Vancouver, Washington. My father was born in Idaho, raised in Utah, Nevada, and California; met my mother in Belén, New Mexico; lived in Central and Northern California; retired to Spokane; served all throughout the length of Chile; his descendants served in every continent of the globe and live scattered across the nation. Our base is not in land and place, it is in something deeper and stronger; it is a work ethic, a spirit of adventure and learning, a testimony of the gospel, a connection to family, a legacy of my father, Edward Lorenzo Howard Jr.
Roy Edward Howard